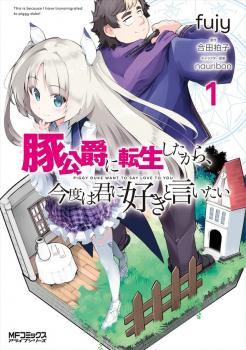 Buta Koushaku ni Tensei Shitakara, Kondo wa Kimi ni Suki to Iitai
Because I've Been Reincarnated as the Piggy Duke, This Time I Will Say I Like You, Buta Koushaku ni Tensei Shita kara, Kondo wa Kimi ni Suki to Iitai, Piggy Duke Want to Say Love to You, This is because I have transmigrated to piggy duke!
Release: 2018
Status: ON-GOING
Author: Aida Rhythm
Artist: Fujy, Nauribon
Type: Right(→) to Left(←)
Manga Description
In the wake of being resurrected as the antagonist of the anime that I loved so a lot, I "The piggy duke" am bound for an awful end. That is the reason I'll utilize the intensity of realizing my future to get well known with the individuals that abhor me in school and this time without a doubt, I'll admit to you!