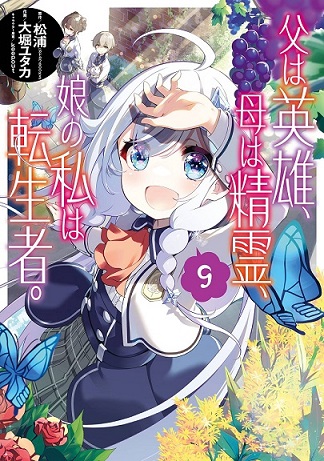 Dad Is a Hero, Mom Is a Spirit, I'm a Reincarnator
Chichi wa Eiyuu, Haha wa Seirei, Musume no Watashi wa Tenseisha, Chichi wa Eiyū, Haha wa Seirei, Musume no Watashi wa Tensei-sha., Mein Vater ist ein Held, meine Mutter ein Geist und ich, die Tochter, eine Wiedergeborene!, Meu pai é um herói, minha mãe é um espírito e eu sou uma reencarnada, Mon père est un Héro, ma mère un Esprit et moi une réincarnée., My Father Is a Hero, My Mother Is a Spirit and the Daughter (Me) Is a Reincarnator., Reincarnated as the Daughter of the Legendary Hero and the Queen of Spirits, Мой Отец - Герой, моя Мать - Королева духов, а я перерождённая их дочерью., Мой Отец - Герой, моя Мать - Королева духов, Я - Перерождённая их дочерью., 父は英雄、母は精霊、娘の私は転生者。, 父亲是英雄, 母亲是灵魂, 我是个转世者, 父親是英雄, 母親是靈魂, 我是個轉世者, 爹強媽猛我無敵, 爹强妈猛我无敌, 轉生後的我成了英雄爸爸和精靈媽媽的女兒, 转生后的我成了英雄爸爸和精灵妈妈的女儿, 아빠는 영웅, 엄마는 정령, 딸인 나는 전생자.
Release: 2018
Status: ON-GOING
Author: Matsuura
Artist: OOHORI Yutaka
Type: Right(→) to Left(←)
Manga Description
"I turned into the soul of components when I resurrected?!" Ellen is a little kid resurrected from current Japan as a half-soul. Her dad, Rovel, is the unbelievable legend who saved the realm, and her mom, Beginning, is the early stage sovereign and leader, all things considered. In addition, she possesses an extraordinary capacity to control the elements. Even though she looks absolutely adorable, this perfect little girl will use the wisdom she gained in her previous life and the power of the spirits to safeguard her family!