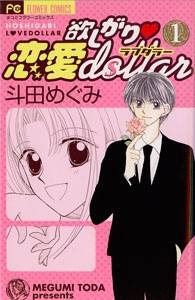 Hoshigari Love Dollar
Covetous Love Dollar
Release:
Status: ON-GOING
Author: Toda, Megumi (Story & Art)
Artist:
Type: Right(→) to Left(←)
Manga Description
SUZUKI Matsuri is riding the train to school one morning when she feels the unpleasant slide of a stranger's fingers on her rear. Not one to be bashful, Matsuri turns and decks the guy behind her, yelling at him and accusing him of being a pervert. Unfortunately for Matsuri, she hits the wrong guy! Her victim is a young man named SUMERAGAWA Omi. He is rich. I mean…. REALLY rich. Ridiculously rich. He chose to ride the train that morning after one of his cars had engine trouble and he didn't want to bother waiting for another car to be brought around. Of course it wasn't Omi who had his hand on Matsuri's behind, and when she realizes this, she apologizes profusely. Omi is not the type to let her off that easily, however. He decides that he likes Matsuri's outgoing personality and sass, and he wants her… for his bride!