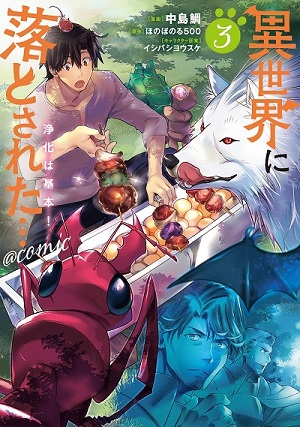 Isekai ni Otosareta… Jouka wa Kihon!
Dropped in a Different World, Dropped into Another World, Isekai ni Otosareta, Summoned to Another World... Purification Is Basic!, 異世界に落とされた…浄化は基本, 異世界に落とされた…
Release: 2020
Status: ON-GOING
Author: Honobonoru500
Artist: NAKASHIMA Tai
Type: Left(←) to Right(→)
Manga Description
A melancholy young man from Japan travels to another world when he becomes involved in a heroic summoning. Since the summoning was unsuccessful, the next time he wakes up, he is not in a castle with a king but in a deep forest! He starts living a life of survival with a positive attitude and no deep thought, which would make you think he would be lost. Then, before he knows it, he uses his magical abilities to save the cursed forest and magical animals one at a time, and he becomes friends with wolves and dogs in a healing paradise! However, he is completely unaware that they are in fact mythical demons and spirits. In addition, they are adored! A heartwarming and misunderstood fantasy begins when a positive young man plays with the legendary magical beasts without knowing it!