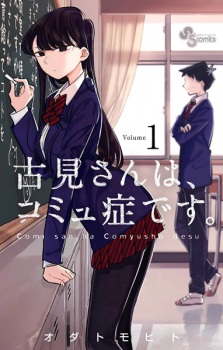 Komi-san wa Komyushou Desu
Comi san ha Comyusho desu, Komi-san Cant Communicate, Komi-san Has a Communication Disorder, Komi-san wa Komyushou Desu, Komi-san wa Communication Shougai desu, Komi-san wa Comyushou desu, Miss Komi Is Bad at Communication, Komi Can't Communicate, Komi-san wa Komyushou Desu.
Release: 2015
Status: ON-GOING
Author: Oda Tomohito
Artist: Oda Tomohito
Type: Right(→) to Left(←)
Manga Description
Komi-san is the lovely and excellent young lady that nobody can take their eyes off of. Nearly the entire school considers her to be the cool excellence that is out of their class, however Tadano Hitohito knows the fact of the matter: shes simply extremely terrible at speaking with others. Komi-san, who wishes to settle this unfortunate propensity of hers, endeavors to enhance herself with the assistance of Tadano-kun.