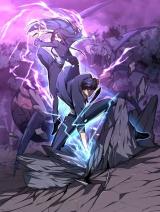 Extraordinary Evolution
Advanced Evolution, Chaofan Jinhua, Siêu Phàm Tiến Hóa, Super Evolution, アドバンスド・エボリューション, 超凡进化, 초월진화,
Release: 2021
Status: ON-GOING
Author: Chaos, Lulai Buddha, Ningen (宁恩)
Artist: Chang Pan Yong Zhe
Type: Manhua
Manga Description
Ming's dream of becoming an extraordinary hero is stopped in its tracks after a cosmic accident leaves him comatose. But one year later, just as the city is being overrun by mutant creatures, he reawakens with a newfound strength that packs a powerful punch. Armed with fists now mightier than the world of superheroes has ever seen, Ming must use his power to crush the outbreak threatening to wipe out all of humanity. While embarking on a mission of epic proportions, he'll go up against giant rats and mad scientists to rescue the world from certain doom. But alongside his fellow extraordinary heroes, he may just have what it takes to save the world and uncover the secrets of the universe. Ming He is a teenager with an inconspicuous superpower, but his superpower is the lowest one out of the five tiers, White Dust. When he was on the way home, a disaster comet with the code name "Goddess" flew into the atmosphere and crashed onto Ming He, who was riding his bike on an empty highway."Goddess" then became a spirit and gifted a powerful super talent to Ming He. With the addition of his original "trash" talent, Ming He gradually hikes towards his goal of becoming the strongest human, all the while slowly getting closer to discovering the truth of the cosmic universe!!