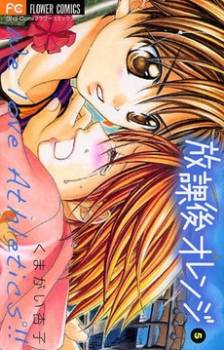 Houkago Orange
After School Orange, Houkago Orenji,
Release: 2007
Status: COMPLETED
Author: KUMAGAI Kyoko
Artist: KUMAGAI Kyoko
Type: Right(→) to Left(←)
Manga Description
The track & field team Sakurai Natsumi joined is an uncommon team, who instead of training, play basketball and soccer everyday. The captain of Tokiwa Middle School's track and field team is Yoku-sempai, a second year student, who despite his small height of just 151 cm, is good at every sport he plays. Even though it was Natsumi's brother Ryo who made Yoku the captain, she criticizes Yoku-sempai for being a bad captain. But soon she understands why her brother made that decision just by seeing Yoku's high jump. His beautiful jump makes her fall in love with him on a day where the sport's ground was colored in orange by the setting sun, a day she will never forget.